How to Avoid Scams When Buying Used Cars?
Posted Tuesday, Feb 21, 2023
Have you ever come across an ad that caused you to rethink your decision? You must have scoured the net and flipped through various classifieds only to come up empty-handed. Reliable cars are hard to find, especially when you are searching for used cars!
The world may have left behind amateur scams, such as fiddling with an odometer reading by elevating the back of the car and driving in reverse. However, technological advancement has led to many more scams that force people to stay away from used cars.
Luckily, you can search for cheap cars and still manage to avoid scams. It is possible to get all the advantages of used cars without dealing with fraudsters. There are only a few things you need to remember.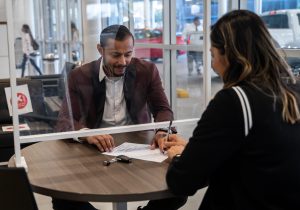 5 Tips for Avoiding Used Car Scams:
1.     Avoid "Too Good to Be True" Ads
If something seems too good to be true, chances are it is a scam. You may come across sellers eager to part with their used cars in less time. There's even a chance you'll come across cheap cars whose price tag doesn't match the model.
Pushy sellers or a price tag that doesn't add up often indicate something wrong with the car. There is no reason for a seller to part with a vehicle that quickly. For reliable cars, sellers are almost always looking for a great deal!
When shopping for used cars, always judge the eagerness and communication of the dealer. Consider whether they give you enough time to figure out a financing option that works for you. Most importantly, check the interior and exterior of the car to assure yourself of its condition.
2.     Distracting from a Major Problem
Often, sellers might try to distract you from a major problem in the vehicle. This is usually accomplished in that first interaction when viewing an ad on Craigslist or other platforms. Unreliable cars that need repair often come with misleading phrases.
Just Needs Freon: This phrase is used by sellers to indicate that the car's air conditioning needs a refrigerant refill. However, you should read this as "air-conditioner not working." Keep in mind that a seller would have tried to fill refrigerant into the car. The air conditioner isn't working because the system needs repair.
Ran When Parked: This is another phrase you may find when searching for used cars. It lets readers know that the car ran before it was parked. However, this phrase has an obvious flaw. No car owner will leave a car parked without checking if it is still running. It means the car won't start, and it will probably be a waste of time to inspect.
Salvage Title Fraud: A salvage title is provided to a vehicle when it has undergone damage during a disaster. This is usually through floods, cyclones, or an earthquake. Once the car is saved and put up for resale, it is given a salvage title that shows buyers that investing in the car is risky. Owners may begin selling the car in a different state to remove this title and add it to the list of reliable cars on your screen!
3.     Odometer Fraud
Odometer fraud has become too common. Cheap cars often come with tampered odometers. If you feel like a car has run for much longer than the odometer displays, you might have to conduct a small investigation.
Used cars sold throughout the world are often fixed with fake odometers. This is to tamper with the reading of the car. However, the correct reading can be figured out through the car's history. Even if you cannot find the exact reading, you may locate certain readings stated in documents that do not line up with the current one.
The vehicle history report or the original title may show you certain appointments that note the used car's mileage. Moreover, a mechanic can drive the car or inspect it and let you know if the mileage matches the car's condition.
4.     VIN Tampering
A VIN code is a unique code for all cars. You can use this to find details about the vehicle or its history. Sometimes, a seller might tamper with the code by scratching it out and replacing it with a new one.
VIN tampering might be done in the case of stolen cars or those that have been destroyed and salvaged. The best way to deal with this is to match the VIN with the documents. Possessing a vehicle with a fake VIN might lead to a loss for you, as the car will eventually return to its original owner.
5.     Low Prices
A seller may only provide you with a low price if there is something wrong with the vehicle. There is a reason they are trying to sell it off as quickly as possible. It is up to you to inspect the car or get it inspected.
Reliable cars aren't usually sold at such a low price, and you will definitely know if something doesn't feel right. In case you suspect fraud, you are probably right!
Final Thoughts
The easiest way to avoid a scam when looking for used cars is to have a trusted friend and experienced mechanic with you. These professionals can help you understand whether something doesn't add up and alert you in cases of fraud.
Remember that once you buy a vehicle, there is no going back. You don't want to be stuck with a car that doesn't work, needs constant maintenance, and requires a lot of fuel and upkeep. If you want to escape the cons of a poor-quality car, keep your eyes and ears open.
The signs listed above can warn you of the car's condition ahead of time. You must always listen to your gut when buying a car. If your gut tells you to let go of the deal, perhaps it is time to move to another car!