The Easiest Way to Get Auto Financing
Posted Monday, Jan 30, 2023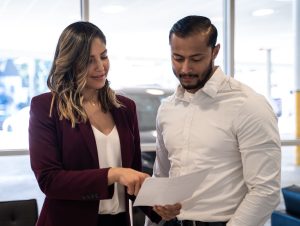 If you are looking for the "best car deals near me" but can never find the best car financing option, there is an easy way out. The car dealership might not matter much if you don't start your journey on the right foot.
Sure, buying that new car can be exciting. But if you cannot secure optimal car financing, you may be disappointed. You must match that car loan to your current budget (which determines your down payment) and ongoing expenses (which determines how much interest you can pay). If you want the best auto financing options, the following sections contain steps you can follow to make the process easy. As you go through the steps, ensure you match them with your requirements and don't overstep your budget.
How to Get Easy Auto Financing
If you are looking to buy a used vehicle but don't want to invest in those expensive price tags, perhaps you can lower your cost through better financing options. However, you must decide whether you want to use external financing or opt for dealer financing.
Many people might finance their car through an auto loan if their car's price exceeds their budget. Yet, even that contains some issues. Before committing to financing a car through a finance company, go through all the terms and conditions and make sure they work for you.
The following tips can get you through the initial hurdle of financing that car;
1. Consider Budget Restrictions
Before deciding on anything, you must plan ahead. This includes your budget and any related restrictions. When searching "best car deals near me," car loans can help you get a better deal. You might never find the perfect car dealership, but it is far easier to find the best deal. A car loan might have you paying an interest rate for some time. But it can significantly lower your cost.
First, consider that budget. Don't just think of the down payment but also your ongoing expenses. Will you be able to afford that interest rate and monthly payments over the next couple of years? Try not to commit to anything that will put you in financial jeopardy in the long run.
Owning a car means paying for regular car repairs, maintaining a filled tank, and monthly service costs. Add to that the extra car wash costs and oil change every once in a while, and you quickly accumulate more expenses.
An auto loan should only form 1/10th of your expenses. If it exceeds this, you may be unable to save up enough money for other requirements.
2. Choose Your Lender
Before finalizing a deal with a car dealership, you must choose whether to contact an external dealer or depend on the dealership for auto loan terms. You can ideally contact multiple lenders, but it is best to rely on the dealership if you have restrictions such as a bad credit history.
Most of the dealers you contact will offer finance options through companies they have partnered with. If you have a better credit history, you can choose to trust banks or other car financing sources.
3. Settle Issues That Can Impact Your Rates
Before applying for a loan, check whether you can do anything to better your chances of getting the best deal. Review your credit history and check if there are any debts you can pay off. A better credit history can get you better interest rates. Moreover, it can also increase your chances of getting approved at a bank for that auto loan.
The easiest way to understand your credit history is to get that credit score report. The three-digit score that you receive in your report can tell you how good of a credit history you have.
An easy way to better that credit score is to check for any underlying errors. Errors can be easily corrected by contacting the authorities. All you need to do is send an email or visit the office with proof.
A credit report doesn't just help you get better car financing options. It can also help you prepare for expensive auto loan terms. The better prepared you are, the easier it is to choose that auto financing without wasting time.
4. Choose Your Lender
Now that you are done with the preliminaries, it is time to choose your lender. Ensure you compare multiple rates before settling on that one lender. Go through the interest rates they offer, the down payment you need to pay, the terms, and extra fees. Make sure you conduct a fair analysis.
The repayment term is how long you will have to pay installments. The interest rate determines the cost you will need to pay over the repayment term. On the other hand, a down payment is what you need to pay upfront. The more down payment you pay, the lesser interest rate you will need to pay in the long run.
Ensure you understand all of the terms before signing off. This includes any extra fees that can raise the cost. When you are done choosing the lender and signing the agreement, you can begin forming your application.
5. The Final Steps
The following documents are necessary for anyone applying for an auto loan:
· Companies will usually ask for your driver's license or an identification document first
· They will also need proof of stable income
· You might also have to produce proof of your auto insurance.
Further requirements can also be demanded based on your place of residence. Once you have read all the terms and conditions, you should submit your application as soon as possible. You will need to accept the offer as soon as your application is approved, which may take a few days.
The best way to maintain good financing terms is to make your loan payments on time. You can set reminders or set up automatic payments with your bank. This ensures your installments are paid on time without forgetting to pay.
Final Thoughts
· The best way to get easy auto financing is to plan it every step of the way. This can help you get prepared for any issues that can be settled in advance.
· Getting a car may be exciting, but it is a responsibility too. Planning its financing is best as it can help you save money and time to pay other important expenses down the line.